Our Patients' Stories
"Due to scar tissue and a degenerative disc, I require attention and maintenance to stay as pain-free as possible. Since I have been in the care of Dr. Casey Morgan I am stronger and maintaining my health."
Brenda R.
"Casey and his staff are so friendly and helpful. Casey cares about my case and is one of the main reasons my back ever feels a sense of relief. He is truly invested in helping get my discs and spine healthy again."
Connor VanVeckhoven
Effective
Treatment for Back Pain

from Austin's Trusted

Herniated Disc Chiropractor

A herniated disc, depending on its severity, is one of the most intense causes of back pain. A herniated disc can pinch nerves and completely debilitate people of any age.

West End Chiropractic Clinic understands that patients have temporarily lost a part of their daily life to the pain that a herniated disc carries. West End's patients deserve safe, long-lasting relief, and that's exactly what they get from Austin's trusted herniated disc chiropractor. While many doctors will recommend traction to help the disks "slip back into position," West End also believes that gentle exercise and stretching helps the patient improve faster and protect against sharp, sudden pain.
What is a Herniated Disc (or "Slipped" Disc), and Why did it Happen?
Herniated discs are often referred to as "slipped" discs, although "slipped" isn't the most accurate way to describe the problem. For conversation's sake, a "herniated" disc and a "slipped" disc are one and the same.
Spinal discs are made of a thick outer layer (annulus fibrosus), and a softer gel-like center (nucleus pulposus). When the outer layer is weakened, cracks occur. Then, the inner material within the disc begin to push outward.
When this happens, nerve roots are compressed and can cause intense pain. There are various stages of herniated discs: from a small push outward, leading all the way to the gel-like substance actually leaking from the disc.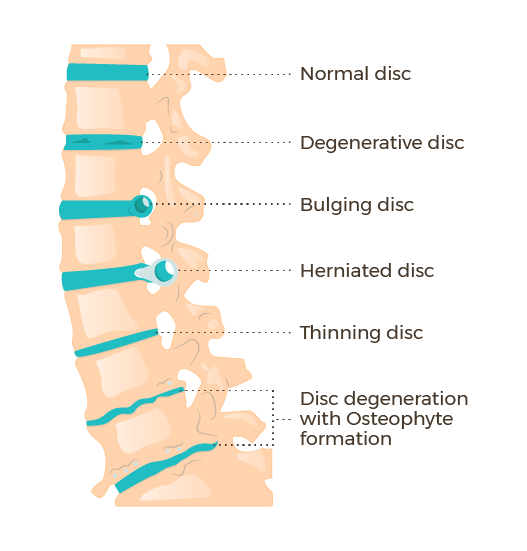 Factors that contribute to herniated discs:
Poor posture
Being overweight
Old age
Physical injury
Measurable Results from
Herniated Disc Chiropractors
The National Center for Biotechnology Information (NCBI), home of the most trusted biomedical literature in the world, PubMed, published a carefully conducted study covering the effect of chiropractic care for herniated discs.
The study found that chiropractic adjustments caused a normalization of inflammation for patients suffering from chronic low back pain, often caused by problems such as herniated discs.
Carefully calculated manipulations from an experienced herniated disc chiropractor relieve stress on nerve roots, restore proper blood flow, and normalize inflammatory markers IL-6 and CRP.
The purpose of this study is to observe the responses of inflammatory markers (IL-6 and CRP) after a series of nine chiropractic spinal manipulations.

A total of nine chiropractic lower back manipulations caused the mediators of inflammation to present a normalization response in individuals suffering from chronic low back pain.
At West End Chiropractic Clinic, patients experience this same kind of effective treatment for back pain every day.
Contact West End Chiropractic Clinic to Request an Appointment Today
With digital x-rays and advanced tests, West End's experienced staff is prepared to diagnose and treat herniation at any stage.
Get treatment for back pain before herniation progresses any further. Contact West End Chiropractic Clinic today.